For recent graduates, young professionals in the medical field, and seasoned executives alike, we provide a challenging and dynamic work environment with ample opportunity for both personal and professional development. Of course, our salaries and benefits are also highly attractive.
By joining Clinixir, you will get to work with cutting-edge equipment at our state-of-the-art facilities – all as part of a team of highly skilled and motivated clinical researchers and managers.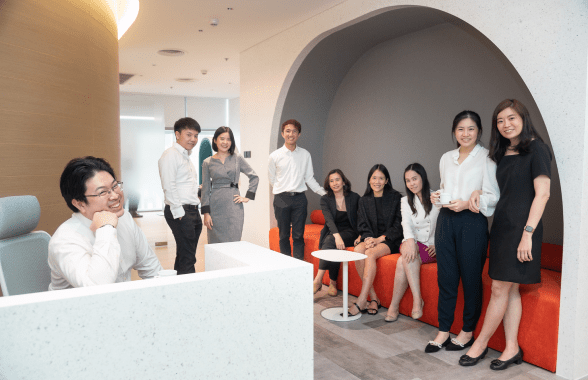 We are proud to be a Thai organization, but as many of our staff have studied and worked abroad, our team also has an international character.
As a member of the Clinixir team, you will play an integral role in strengthening clinical research capabilities, supporting local innovations, attracting global investment, and driving economic growth in Thailand.
Clinixir's mission is to provide world-class one-stop clinical research services that meet and exceed global standards for medical product development.
Ultimately, we are seeking to strengthen clinical research capabilities, support local innovations, attract global investment, and drive economic growth in Thailand. In order to achieve these goals, we have a dynamic company culture anchored by our core values: Global Presence, Professional Expertise, and Innovative Capabilities.
Our people all exemplify our core values, and by combining our strengths and working as a team, we will make our vision a reality.
Job Highlights
Clinical Operations
Pharmacy
Thorough knowledge of drug development process
Qualifications
BSc. in Pharmacy/ Nurse, life sciences (or equivalent)
Min. 5 years professional experience in with Clinical Research, relevant healthcare environment. Monitoring experience in the pharmaceutical or clinical research industry. Having any people management/ or relevant supervisory/ coaching (prefer)
Possess a track record of management, leadership, and people development
Experience conducting Site Selection, Initiation, Routine Monitoring and Close Out Visits both remotely and on-site
Thorough knowledge of drug development process, Thai and international clinical research regulations and guidelines such as ICH-GCP.
Strong interpersonal and communication skills
Job description
Manage and develop employees to ensure high quality of work performance and retention of high-quality employees
Manage staff in accordance with organizations policies and applicable regulations. Responsibilities include planning, assigning, and directing work; appraising performance and guiding professional development; rewarding and disciplining employees; addressing employee relations issues and resolving problems. Approve actions on human resources matters.
Responsible for the management of resources and resource projections to ensure project teams are consistent with client needs, expectations, and contractual expectation
Provide leadership and implement Clinical Operations services and productivity improvements to ensure optimal utilization of billable staff
Participate in the selection and onboarding process for new clinical operation staff by conducting candidate review and participating in the interviewing process. Conducts onboarding training for new staff in conjunction with HR and Learning and training program
Evaluate compliance of assigned Clinical Operations employees with Company systems and processes
Manage the quality of assigned staff's clinical work through regular review and evaluation of work product.
Identifies quality risks and issues and create appropriate corrective action plans to prevent or correct deficiencies in performance of staff.
Ensures that staff are meeting defined workload and quality metrics through regular review and reporting of findings as outlined by clinical operation management.
Mentor and train other Clinical Operations management level employees
Assist more senior Clinical Operations staff in the review, development and implementation of short-term and long-term objectives, major plans and programs for each functional group within Clinical Operations
Participate in internal / external audits and regulatory agency inspections as required
Act as leadership for clinical deliverables (if required)
Assist/ provide input for project related activities
Apply now
Job Highlights
Pharmacy
Country-level operational planning and support
Assist PM to develop the Study Plans
Brief Position
The key duties of the Clinical Team Lead is to act as primary point of contact to lead, manage and coordinate the conduct of clinical trials from study start-up to close out at a country level in accordance with ICH-GCP and applicable local regulations. You are to provides direction and guidance to the project team, coordinating site management and monitoring activities, and communicating status of these activities to the Project Manager (PM). You will be required to maintain the quality and scientific integrity of clinical trials at a country level. You will be required to actively collaborate with cross functional stakeholders to ensure timely and on budget execution of clinical trial deliverables within the county.
Minimum Qualifications
Master's/ Bachelor's degree in pharmacy, nurse, life sciences required
At least 2 years of experience in leading internal CRA at an advanced level and demonstrated effective leadership and organisation and communicated skills.
At minimum of 5 years as a CRA is required
Ability to work proactively with challenging situations.
Willing to travel upcountry (expected to be 40%, short period of time)
Audit and inspection experience is a plus
High energy, self-starter, agile, patient, creative problem solver with a curing desire to make a difference and drive Thailand clinical research industry forward
English proficiency level – intermediate to advance
Responsibilities
Lead country-level operational planning and support site selection within region
Assist with preparation of initial ethics and regulatory submission package and oversight on approval processes and timelines as well as assist with and track the ethics and regulatory submission and approval processes during the course of the study in CTMS
Support PM with application and tracking Investigational Product (IP) and ancillaries import/export permits and licenses. Work with PM to coordinate initial IP shipment across regions
Assist with aspects of CTMS set-up, and ensure relevant systems are updated to enable accurate reporting of study progress and milestone deliverables.
Prepare for and attend Investigator meetings; may present materials as requested.
Assist CRAs in negotiating individual budgets and contracts with sites.
Coordinating legal review of any changes to the Clinical Trial Research Agreement (CTRA) document creation and maintenance.
Assist PM to develop the Study Plans, including but not limited to the Clinical Monitoring Plan (CMP) and update plans during the study
Develop and distributes Source Data Verification/Monitoring tools and trackers
Develop and distribute an annotated report template and template visits confirmation/follow-up letters in accordance with any Sponsor requirements.
Maintain ICF version tracking and assist with ICF translation process if required
Lead internal CRA meetings/teleconferences and may be required to prepare for the meeting, presenting a section of the agenda and follow-up with specific tasks. May assist with preparing the agenda, meeting minutes and distributing additional communication
May attend Sponsor meetings and contribute as required. May assist with preparing the agenda, meeting minutes and distributing additional communication
May correspond directly with the sponsor to provide information/updates
Prepare site newsletters/emails to keep site staff informed of key communication
Support the PM with vendor management, e.g. central laboratory, IVRS/IWRS providers
Support the PM in ensuring CRAs are adequately trained on project specific requirements including study protocol, specific procedures, project plans, and related forms and the Case Report Form
Work with PM to coordinate IP re-supply as required
Support PM in developing and implementing subject recruitment strategies at the study and site level
Assist with CTMS maintenance during the course of the project
Review visit reports and site follow-up letters for compliance with ICH-GCP and the CMP; provide final approved documents to Sponsor as required and track report metrics in CTMS
Track the resolution of follow-up issues from site visits and maintain protocol deviation tracking in CTMS
Ensure appropriate issue escalation and tracking of these to resolution, proactive identification of areas of risk and develop risk management strategies
Oversee safety reporting processes to ensure in line with local and regional regulatory requirements
Provide guidance to CRA team through mentoring and consistent communication.
Oversee data collection and query resolution throughout the project
Assist PM with response to audit findings and assist CRAs with completion of any CAPA review and documentation
Perform Accompanied Assessment Visit or co-monitoring visits as required
Support PM with managing CRA resources to ensure monitoring activities are within budget and notifying the PM of any changes required or changes in scope
Assist with updates to the site budget and Addendums to the Clinical Trial Research Agreement
Serve as back-up PM and back-up CRA as necessary during team absences.
Apply now